The Great Passover Escape (Paperback)
Atlantic Coast Marketing was founded in 1989. We are proud to supply government buyers with a comprehensive range of publications including books, pamphlets and journals at competitive prices. For larger orders we are happy to provide price quotes and GSA contracting.
Check Out our Featured Children's Book!
Isn't It Scary by Vernon Hamilton
This picture book follows two African-American children as they learn about the natural habitats of animals, and connect each to the comfort and security of the children's own home and family.
Travis and Rosa are in a suburban park with their mother when they see a small rabbit disappear into a hole. The kids peer into the hole as far as they can see, and then one child says, "Isn't it scary?" Mom assures the children that the rabbit is very comfortable and safe in its home.
Isn't it Scary? follows the family as they encounter several animals in the park. Travis and Rosa see rabbits, squirrels, frogs, fish, deer, birds, and bats. They learn that every creature is adapted and suited to its own special environment. NOW ON SALE HERE: https://www.acmit.com/book/9781480889163
Bulk Order Notice
This site is for quick government credit card purchases at relatively small quantities.
If you are considering purchases of significant quantity and total cost, contact us at acmsales@optonline.net or (877) 803-0325 to request a discounted price quotation for larger orders.
---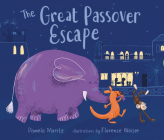 $7.99
Usually Ships in 1-5 Days
Description
---
Long-suffering Chimp tries to talk his friends Ellie the Elephant and Kanga the Kangaroo out of trying to escape from the Biblical Zoo to find a Passover seder to attend, but ends up joining them in the escapade, teaching them about the Passover holiday along the way. And whose house do they turn up at for the seder? Their old friend and zookeeper, Shmulik Droll Passover story includes lots of funny mistakes when the animals try to remember the words for Passover items and get them all wrong, needing to be corrected by Chimp. Includes back matter about Passover and the Biblical Zoo in Jerusalem.
Contact Us
E-mail: acmsales@optonline.net
Toll Free: (877) 803-0325 Fax: (866) 806-2303
Atlantic Coast Marketing
PO Box 504
Nyack, NY 10960