Goodnight, Goodnight, Construction Site Book and Plush Gift Set (Novelty book)
Atlantic Coast Marketing was founded in 1989. We are proud to supply government buyers with a comprehensive range of publications including books, pamphlets and journals at competitive prices. For larger orders we are happy to provide price quotes and GSA contracting.
Check Out our Featured Children's Book!
Isn't It Scary by Vernon Hamilton
This picture book follows two African-American children as they learn about the natural habitats of animals, and connect each to the comfort and security of the children's own home and family.
Travis and Rosa are in a suburban park with their mother when they see a small rabbit disappear into a hole. The kids peer into the hole as far as they can see, and then one child says, "Isn't it scary?" Mom assures the children that the rabbit is very comfortable and safe in its home.
Isn't it Scary? follows the family as they encounter several animals in the park. Travis and Rosa see rabbits, squirrels, frogs, fish, deer, birds, and bats. They learn that every creature is adapted and suited to its own special environment. NOW ON SALE HERE: https://www.acmit.com/book/9781480889163
Bulk Order Notice
This site is for quick government credit card purchases at relatively small quantities.
If you are considering purchases of significant quantity and total cost, contact us at acmsales@optonline.net or (877) 803-0325 to request a discounted price quotation for larger orders.
---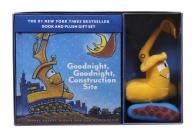 Description
---
The New York Times bestselling bedtime book (four years-and-counting!) is now available in mini format with a cute plush!

Snuggle up with a plush Excavator and this portable mini edition of the international bestseller.
As the sun sets behind the big construction site, all the hardworking trucks get ready to say goodnight. One by one, Crane Truck, Cement Mixer, Dump Truck, Bulldozer, and Excavator finish their work and lie down to rest—so they'll be ready for another day of rough and tough construction play! With irresistible artwork by bestselling illustrator Tom Lichtenheld and sweet, rhyming text, this book will have truck lovers of all ages begging for more.

This adorable plush + book gift set will be a bedtime favorite for construction-crazy kids everywhere. Love the story and need even more excitement? You and your little reader can CRUNCH, VROOM, BEEP, YAWN and SNORE along with Goodnight, Goodnight, Construction Site SOUND BOOK—also available!
About the Author
---
Sherri Duskey Rinker is the author of #1 New York Times bestsellers Goodnight, Goodnight, Construction Site and Steam Train, Dream Train. She lives with her photographer husband, two sons, one dog, and one hedgehog in St. Charles, Illinois.

Tom Lichtenheld is the illustrator of many bestsellers, including Goodnight, Goodnight, Construction Site and Steam Train, Dream Train, created with Sherri Duskey Rinker, and Duck! Rabbit! and I Wish You More, created with Amy Krouse Rosenthal. He lives near Chicago, Illinois.
Contact Us
E-mail: acmsales@optonline.net
Toll Free: (877) 803-0325 Fax: (866) 806-2303
Atlantic Coast Marketing
PO Box 504
Nyack, NY 10960