Ellie Makes a Friend (Hardcover)
Atlantic Coast Marketing was founded in 1989. We are proud to supply government buyers with a comprehensive range of publications including books, pamphlets and journals at competitive prices. For larger orders we are happy to provide price quotes and GSA contracting.
Check Out our Featured Children's Book!
Isn't It Scary by Vernon Hamilton
This picture book follows two African-American children as they learn about the natural habitats of animals, and connect each to the comfort and security of the children's own home and family.
Travis and Rosa are in a suburban park with their mother when they see a small rabbit disappear into a hole. The kids peer into the hole as far as they can see, and then one child says, "Isn't it scary?" Mom assures the children that the rabbit is very comfortable and safe in its home.
Isn't it Scary? follows the family as they encounter several animals in the park. Travis and Rosa see rabbits, squirrels, frogs, fish, deer, birds, and bats. They learn that every creature is adapted and suited to its own special environment. NOW ON SALE HERE: https://www.acmit.com/book/9781480889163
Bulk Order Notice
This site is for quick government credit card purchases at relatively small quantities.
If you are considering purchases of significant quantity and total cost, contact us at acmsales@optonline.net or (877) 803-0325 to request a discounted price quotation for larger orders.
---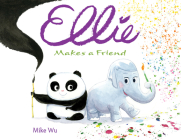 $16.99
Usually Ships in 1-5 Days
Description
---
Ellie the artistic elephant returns in this new picture book celebrating friendship and inspiration by acclaimed author-illustrator Mike Wu.
A panda has joined the zoo, and just like Ellie, she's an artist!
Ellie is thrilled to make a new friend, but with everyone so impressed by Ping's distinctive painting skills, Ellie starts to question her own talent.
As she learns more about her new friend from China, though, Ellie finds that a fresh perspective can lead to new inspiration--and maybe something wonderful they can create together!

About the Author
---
Mike Wu is the author and illustrator of Ellie, which was selected as NPR's best of 2015, as well as Ellie in Concert, Ellie in Color, and Henri's Hats. He is also the illustrator of The Oodlethunks series. When he's not making books, he animates at Pixar, where he has worked on The Incredibles, Ratatouille, Up, and Toy Story 3, among other movies.He attended the California Institute of the Arts, and he is the creator of children's clothing and gift line Tiny Teru. Mike lives in the Bay Area with his family. Visit him online at theartofmikewu.com.
Praise For…
---
PRAISE FOR HENRI'S HATS

"Wu's storytelling is crisp and cinematic. . . . A book full of the promise of remarkable experiences to come."—<i>Kirkus Reviews</i>

PRAISE FOR HENRI'S HATS

"Young children will be drawn to the colorful illustrations."—<i>School Library Connection</i>

PRAISE FOR HENRI'S HATS

"Delightful. . . . The illustrations are gorgeous."—<i>School Library Journal</i>
Contact Us
E-mail: acmsales@optonline.net
Toll Free: (877) 803-0325 Fax: (866) 806-2303
Atlantic Coast Marketing
PO Box 504
Nyack, NY 10960