Goodnight Moon Board Book (Board book)
Atlantic Coast Marketing was founded in 1989. We are proud to supply government buyers with a comprehensive range of publications including books, pamphlets and journals at competitive prices. For larger orders we are happy to provide price quotes and GSA contracting.
Check Out our Featured Children's Book!
Isn't It Scary by Vernon Hamilton
This picture book follows two African-American children as they learn about the natural habitats of animals, and connect each to the comfort and security of the children's own home and family.
Travis and Rosa are in a suburban park with their mother when they see a small rabbit disappear into a hole. The kids peer into the hole as far as they can see, and then one child says, "Isn't it scary?" Mom assures the children that the rabbit is very comfortable and safe in its home.
Isn't it Scary? follows the family as they encounter several animals in the park. Travis and Rosa see rabbits, squirrels, frogs, fish, deer, birds, and bats. They learn that every creature is adapted and suited to its own special environment. NOW ON SALE HERE: https://www.acmit.com/book/9781480889163
Bulk Order Notice
This site is for quick government credit card purchases at relatively small quantities.
If you are considering purchases of significant quantity and total cost, contact us at acmsales@optonline.net or (877) 803-0325 to request a discounted price quotation for larger orders.
---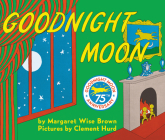 $8.99

Usually Ships in 1-5 Days
Description
---
In this classic of children's literature, beloved by generations of readers and listeners, the quiet poetry of the words and the gentle, lulling illustrations combine to make a perfect book for the end of the day.
In a great green room, tucked away in bed, is a little bunny. "Goodnight room, goodnight moon." And to all the familiar things in the softly lit room—to the picture of the three little bears sitting on chairs, to the clocks and his socks, to the mittens and the kittens, to everything one by one—the little bunny says goodnight.
One of the most beloved books of all time, Goodnight Moon is a must for every bookshelf. This board book edition is the right size for little hands and is the perfect gift for baby showers, toddler birthday parties, and holidays.
About the Author
---
Margaret Wise Brown, cherished for her unique ability to convey a child's experience and perspective of the world, transformed the landscape of children's literature with such beloved classics as Goodnight Moon and The Runaway Bunny. Other perennial favorites by Ms. Brown include My World; Christmas in the Barn; The Dead Bird; North, South, East, West; and Good Day, Good Night.
Clement Hurd (1908–1988) is best known for illustrating Goodnight Moon and The Runaway Bunny, the classic picture books by Margaret Wise Brown. He studied painting in Paris with Fernand Léger and others in the early 1930s. After his return to the United States in 1935, he began to work in children's books. He illustrated more than one hundred books, many of them with his wife, Edith Thacher Hurd, including the Johnny Lion books, The Day the Sun Danced, and The Merry Chase. A native of New York City, he lived most of his life in Vermont and California.
Clement Hurd (1908–1988) se graduó de Yale University. Estudió pintura en París en los años 1930 con Fernand Léger, entre otros. Allí fue donde desarrolló su estilo característico, compuesto de colores de fuerte contraste. Hurd estuvo casado con la escritora Edith Thacher Hurd, con quien también creó muchos libros que se convirtieron en favoritos de los niños.
Contact Us
E-mail: acmsales@optonline.net
Toll Free: (877) 803-0325 Fax: (866) 806-2303
Atlantic Coast Marketing
PO Box 504
Nyack, NY 10960