Cozy (Hardcover)
Atlantic Coast Marketing was founded in 1989. We are proud to supply government buyers with a comprehensive range of publications including books, pamphlets and journals at competitive prices. For larger orders we are happy to provide price quotes and GSA contracting.
Check Out our Featured Children's Book!
Isn't It Scary by Vernon Hamilton
This picture book follows two African-American children as they learn about the natural habitats of animals, and connect each to the comfort and security of the children's own home and family.
Travis and Rosa are in a suburban park with their mother when they see a small rabbit disappear into a hole. The kids peer into the hole as far as they can see, and then one child says, "Isn't it scary?" Mom assures the children that the rabbit is very comfortable and safe in its home.
Isn't it Scary? follows the family as they encounter several animals in the park. Travis and Rosa see rabbits, squirrels, frogs, fish, deer, birds, and bats. They learn that every creature is adapted and suited to its own special environment. NOW ON SALE HERE: https://www.acmit.com/book/9781480889163
Bulk Order Notice
This site is for quick government credit card purchases at relatively small quantities.
If you are considering purchases of significant quantity and total cost, contact us at acmsales@optonline.net or (877) 803-0325 to request a discounted price quotation for larger orders.
---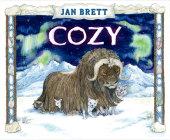 $18.99
Usually Ships in 1-5 Days
Description
---
A New York Times Bestseller!

A group of clever animals find an unusual but warm and furry home during Alaska's long winter in Jan Brett's newest snowy adventure.

Cozy is the softest musk ox in Alaska, with the warmest fur you ever did feel. When a storm hits while he's separated from his family, he starts to feel lonely--but not for long. As the snow piles up, animals start to notice just how warm and cozy Cozy really is! One mama lemming has a bright idea . . . maybe the best place to spend the winter is under Cozy's fur!

As more and more animals burrow in, Cozy adds to the house rules: quiet voices, gentle thumping, claws to yourself, no biting, and no pouncing. That seems easy enough . . . until the lemmings, snowshoe hare, snowy owl, arctic fox, and wolverine begin to bicker. Luckily, signs of spring soon appear, and that means Cozy can find his herd and his new friends can head to their summer homes. But not before promising to get cozy with Cozy next year!

Jan Brett brings a new lovable character to life through this gorgeous tale of sharing, friendship, and living in harmony.
About the Author
---
With more than 34 million books in print, Jan Brett is one of the nation's foremost illustrators of children's books.  As a child, she decided to be an illustrator and spent much of her time reading and drawing. As a student at the Boston Museum School, Jan spent many hours in the Museum of Fine Arts. Travel is also a constant inspiration, so with her husband, Joe Hearne, who is a member of the Boston Symphony Orchestra, she visits many different countries where she researches the architecture and costumes that appear in her work. Jan lives in a seacoast town in Massachusetts.
Praise For…
---
"This moving tale of gentle kindness serves as a clarion call for anyone searching for a book about creating your own community in times of trial. . . For readers who haven't a musk ox of their own to snuggle up with, this tale proves just as cozy." -Kirkus Reviews


"While the story is fanciful, it takes into account the real-life temperaments and habits of tundra creatures. As in earlier Brett tales, detailed artwork suggests the finesse of scientific illustration as side-panel vignettes hint at what's to come. During a period in which some families are spending more time together in tight spaces, the comforting live-and-let-live message is timely." -Publishers Weekly


"As the story progresses, more and more animals take shelter with Cozy and each new addition requires another house rule. . . ­Children will love the cumulative growth of an unusual home, and, as usual, the illustrations alone make this a safe bet for Brett-friendly collections." -School Library Journal
Contact Us
E-mail: acmsales@optonline.net
Toll Free: (877) 803-0325 Fax: (866) 806-2303
Atlantic Coast Marketing
PO Box 504
Nyack, NY 10960