Little Blue Truck board book (Board book)
Atlantic Coast Marketing was founded in 1989. We are proud to supply government buyers with a comprehensive range of publications including books, pamphlets and journals at competitive prices. For larger orders we are happy to provide price quotes and GSA contracting.
Check Out our Featured Children's Book!
Isn't It Scary by Vernon Hamilton
This picture book follows two African-American children as they learn about the natural habitats of animals, and connect each to the comfort and security of the children's own home and family.
Travis and Rosa are in a suburban park with their mother when they see a small rabbit disappear into a hole. The kids peer into the hole as far as they can see, and then one child says, "Isn't it scary?" Mom assures the children that the rabbit is very comfortable and safe in its home.
Isn't it Scary? follows the family as they encounter several animals in the park. Travis and Rosa see rabbits, squirrels, frogs, fish, deer, birds, and bats. They learn that every creature is adapted and suited to its own special environment. NOW ON SALE HERE: https://www.acmit.com/book/9781480889163
Bulk Order Notice
This site is for quick government credit card purchases at relatively small quantities.
If you are considering purchases of significant quantity and total cost, contact us at acmsales@optonline.net or (877) 803-0325 to request a discounted price quotation for larger orders.
---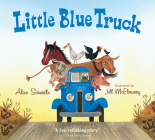 Description
---
The original bestselling board book featuring everyone's favorite Little Blue Truck! Beep! Beep!

Meet Blue. A muddy country road is no match for this little pick up--that is, until he gets stuck while pushing a dump truck out of the muck. Luckily, Blue has made a pack of farm animal friends along his route. And they're willing to do whatever it takes to get their pal back on the road. With a text full of truck sounds and animals noises to read aloud, here is a rollicking homage to the power of friendship and the rewards of helping others. Includes free downloadable audio and party kit for even more fun! Don't miss Blue's bedtime ride in Good Night, Little Blue Truck and his trip to the city in Little Blue Truck Leads the Way.
About the Author
---
Alice Schertle is a poet and author of many well-loved books for children, including the beloved, #1 New York Times best-selling Little Blue Truck series,Very Hairy Bear, Button Up!, and All You Need for a Snowman. She lives in Plainfield, Massachusetts.
Jill McElmurry
was the illustrator of many picture books, including her own 
Mad About Plaid, When Otis Courted Mama
by Kathi Appelt and the best-selling Little Blue Truck series
,
written by Alice Schertle. She happily divided her time between the wide landscape of New Mexico and a green island in Minnesota. Jill passed away in August 2017.
Praise For…
---
"Schertle's (All You Need for a Beach) rhyming stanzas are succinct, and she gives readers plenty of opportunities to chime in with animal and vehicle noises; colored, standout fonts highlight these sounds for extra effect. McElmurry's (Mad About Plaid) gouaches recall the heyday of Golden Books in their combination of vividness, naïveté and sweetness, and her rich palette achieves verisimilitude that is no less satisfying for being nostalgic."  --Publishers Weekly, starred review (4/28/08) 
Contact Us
E-mail: acmsales@optonline.net
Toll Free: (877) 803-0325 Fax: (866) 806-2303
Atlantic Coast Marketing
PO Box 504
Nyack, NY 10960