The Mitten (Board book)
Atlantic Coast Marketing was founded in 1989. We are proud to supply government buyers with a comprehensive range of publications including books, pamphlets and journals at competitive prices. For larger orders we are happy to provide price quotes and GSA contracting.
Check Out our Featured Children's Book!
Isn't It Scary by Vernon Hamilton
This picture book follows two African-American children as they learn about the natural habitats of animals, and connect each to the comfort and security of the children's own home and family.
Travis and Rosa are in a suburban park with their mother when they see a small rabbit disappear into a hole. The kids peer into the hole as far as they can see, and then one child says, "Isn't it scary?" Mom assures the children that the rabbit is very comfortable and safe in its home.
Isn't it Scary? follows the family as they encounter several animals in the park. Travis and Rosa see rabbits, squirrels, frogs, fish, deer, birds, and bats. They learn that every creature is adapted and suited to its own special environment. NOW ON SALE HERE: https://www.acmit.com/book/9781480889163
Bulk Order Notice
This site is for quick government credit card purchases at relatively small quantities.
If you are considering purchases of significant quantity and total cost, contact us at acmsales@optonline.net or (877) 803-0325 to request a discounted price quotation for larger orders.
---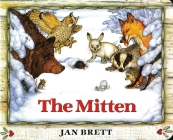 $8.99
Usually Ships in 1-5 Days
Description
---
In this bestselling modern classic, a young boy's lost mitten leads to a charming snowy adventure. Jan Brett's beautiful retelling is a family favorite and this sturdy board book is perfect for little hands.

When Nicki drops his white mitten in the snow, he goes on without realizing that it is missing.

One by one, woodland animals find it and crawl in; first, a curious mole, then a rabbit, a badger and others, each one larger than the last. Finally, a big brown bear is followed in by a tiny brown mouse and what happens next makes for a wonderfully funny climax.

As the story of the animals in the mitten unfolds, the reader can see Nicki's snowy outing in the borders of each page.

In her distinctive style, Jan Brett brings the animals to life with warmth and humor, and her illustrations are full of visual delights and details faithful to the Ukrainian tradition from which the story comes.

Jan Brett is also the creator of such wintery classics as The Hat, The Snowy Nap, The Three Snow Bears, The Animals' Santa, and The Night Before Christmas.

This book is also available in Spanish, as El mitón.

"Grandmother knits snow-white mittens that Nikki takes on an adventure. Readers will enjoy the charm and humor in the portrayal of the animals as they make room for each newcomer in the mitten and sprawl in the snow after the big sneeze."
-The Horn Book
About the Author
---
With over thirty four million books in print, Jan Brett is one of the nation's foremost author illustrators of children's books. Jan lives in a seacoast town in Massachusetts, close to where she grew up. During the summer her family moves to a home in the Berkshire Hills of Massachusetts.
As a child, Jan Brett decided to be an illustrator and spent many hours reading and drawing. She says, "I remember the special quiet of rainy days when I felt that I could enter the pages of my beautiful picture books. Now I try to recreate that feeling of believing that the imaginary place I'm drawing really exists. The detail in my work helps to convince me, and I hope others as well, that such places might be real."
As a student at the Boston Museum School, she spent hours in the Museum of Fine Arts. "It was overwhelming to see the room-size landscapes and towering stone sculptures, and then moments later to refocus on delicately embroidered kimonos and ancient porcelain," she says. "I'm delighted and surprised when fragments of these beautiful images come back to me in my painting."
Travel is also a constant inspiration. Together with her husband, Joe Hearne, who is a member of the Boston Symphony Orchestra, Jan visits many different countries where she researches the architecture and costumes that appear in her work. "From cave paintings to Norwegian sleighs, to Japanese gardens, I study the traditions of the many countries I visit and use them as a starting point for my children's books."
Praise For…
---
"The illustrations are exquisite . . . a charming lap book to be pored over again and again." —School Library Journal

"Readers will sit back and suspend belief and welcome this tall tale from the Ukrainian tradition." —Publishers Weekly

"Grandmother knits snow-white mittens that Nikki takes on an adventure. Readers will enjoy the charm and humor in the portrayal of the animals as they make room for each newcomer in the mitten and sprawl in the snow after the big sneeze."  -The Horn Book
Contact Us
E-mail: acmsales@optonline.net
Toll Free: (877) 803-0325 Fax: (866) 806-2303
Atlantic Coast Marketing
PO Box 504
Nyack, NY 10960