Ten Ways to Hear Snow (Hardcover)
Atlantic Coast Marketing was founded in 1989. We are proud to supply government buyers with a comprehensive range of publications including books, pamphlets and journals at competitive prices. For larger orders we are happy to provide price quotes and GSA contracting.
Check Out our Featured Children's Book!
Isn't It Scary by Vernon Hamilton
This picture book follows two African-American children as they learn about the natural habitats of animals, and connect each to the comfort and security of the children's own home and family.
Travis and Rosa are in a suburban park with their mother when they see a small rabbit disappear into a hole. The kids peer into the hole as far as they can see, and then one child says, "Isn't it scary?" Mom assures the children that the rabbit is very comfortable and safe in its home.
Isn't it Scary? follows the family as they encounter several animals in the park. Travis and Rosa see rabbits, squirrels, frogs, fish, deer, birds, and bats. They learn that every creature is adapted and suited to its own special environment. NOW ON SALE HERE: https://www.acmit.com/book/9781480889163
Bulk Order Notice
This site is for quick government credit card purchases at relatively small quantities.
If you are considering purchases of significant quantity and total cost, contact us at acmsales@optonline.net or (877) 803-0325 to request a discounted price quotation for larger orders.
---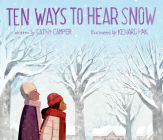 Description
---
A snowy day, a trip to Grandma's, time spent cooking with one another, and space to pause and discover the world around you come together in this perfect book for reading and sharing on a cozy winter day.

One winter morning, Lina wakes up to silence. It's the sound of snow -- the kind that looks soft and glows bright in the winter sun. But as she walks to her grandmother's house to help make the family recipe for warak enab, she continues to listen.

As Lina walks past snowmen and across icy sidewalks, she discovers ten ways to pay attention to what might have otherwise gone unnoticed. With stunning illustrations by Kenard Pak and thoughtful representation of a modern Arab American family from Cathy Camper, Ten Ways to Hear Snow is a layered exploration of mindfulness, empathy, and what we realize when the world gets quiet.
About the Author
---
Cathy Camper is the author of the Lowriders in Space graphic novel series. She is a founding member of the Portland Women of Color Zine Collective, and she loves making stuffed grape leaves like her Lebanese grandma did with family and friends. Cathy also works as an outreach librarian, serving schools and kids grades K--12. You can visit her online at cathycamper.com or follow her on Twitter @cfastwolf.

Kenard Pak is a picture book and book cover illustrator. He's illustrated children's books such as Have You Heard the Nesting Bird? by Rita Gray and The Dinner That Cooked Itself by J. C. Hsyu. He is the author/illustrator of Goodbye Summer, Hello Autumn and Goodbye Autumn, Hello Winter. He lives in San Francisco with his wife and their cat. Visit his website at pandagun.com or follow him on Twitter @kenardpak.
Praise For…
---
PRAISE FOR TEN WAYS TO HEAR SNOW

An NPR Best Book of 2020
A Powell's Best Children's Book of 2020
A Pacific Northwest Indie Bestseller 

"A warm, comforting story with a wintry backdrop... A fine selection for teachers requesting picture books on the senses and a natural for reading aloud before the season's first snowfall." --Booklist, starred review.

"Not since Ezra Jack Keats in Snowy Day and Karen Gundersheimer in Happy Winter has snow been so lovingly depicted, in a counting game for children in all seasons." --School Library Journal

"Readers will savor this calm, kind, and loving moment between a granddaughter and her grandma." --Kirkus Reviews

"Just right for winter reading." --Publishers Weekly 

"Forges new ways to think about intergenerational, intercultural connections." --Horn Book

This cries out for a choral performance of the snow sounds, and it might prompt librarians to bring out Perkins' classic Snow Music." --BCCB
Contact Us
E-mail: acmsales@optonline.net
Toll Free: (877) 803-0325 Fax: (866) 806-2303
Atlantic Coast Marketing
PO Box 504
Nyack, NY 10960