Pat the Zoo (Pat the Bunny) (Touch-and-Feel) (Spiral bound)
Atlantic Coast Marketing was founded in 1989. We are proud to supply government buyers with a comprehensive range of publications including books, pamphlets and journals at competitive prices. For larger orders we are happy to provide price quotes and GSA contracting.
Check Out our Featured Children's Book!
Isn't It Scary by Vernon Hamilton
This picture book follows two African-American children as they learn about the natural habitats of animals, and connect each to the comfort and security of the children's own home and family.
Travis and Rosa are in a suburban park with their mother when they see a small rabbit disappear into a hole. The kids peer into the hole as far as they can see, and then one child says, "Isn't it scary?" Mom assures the children that the rabbit is very comfortable and safe in its home.
Isn't it Scary? follows the family as they encounter several animals in the park. Travis and Rosa see rabbits, squirrels, frogs, fish, deer, birds, and bats. They learn that every creature is adapted and suited to its own special environment. NOW ON SALE HERE: https://www.acmit.com/book/9781480889163
Bulk Order Notice
This site is for quick government credit card purchases at relatively small quantities.
If you are considering purchases of significant quantity and total cost, contact us at acmsales@optonline.net or (877) 803-0325 to request a discounted price quotation for larger orders.
---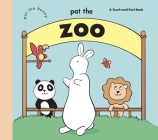 $14.99
Usually Ships in 1-5 Days
Description
---
A fun and exciting touch-and-feel book featuring one of the best-selling children's book characters of all time - Pat the Bunny! 

Pat the Bunny has been creating special first-time moments between parents and their children for over 75 years. This engaging touch-and-feel book takes babies on a playful trip to the zoo where they can pet animals like lions, pandas, turtles, and more, all the while making cherished memories that will last a lifetime.
About the Author
---
In 1942, the launch of Little Golden Books revolutionized children's book publishing by making high-quality picture books available at affordable prices. More than 60 years later, many of the original Golden Book titles are still wildly popular, with The Poky Little Puppy topping the list of ten bestselling children's books of all time. Golden Books' backlist is teeming with classics such as Dorothy Kunhardt's Pat the Bunny, and features the stories and artwork of children's book legends Mary Blair, Margaret Wise Brown, Richard Scarry, Eloise Wilkins, Garth Williams, and many more. Today, the Golden Books imprint includes an array of storybooks, novelty books, and coloring and activity books featuring all of the most popular licenses, including Disney, Nickelodeon, Barbie, Thomas & Friends, The Cat in the Hat, Sesame Street, Marvel Super Heroes, and DC Super Friends. Golden Books continues to reissue the best of its backlist in a variety of formats, including ebooks and apps, as well as bringing out brand-new books in these evolving new formats.

LV Studio is the illustrator of two Pat the Bunny books, May I Help You? and Pat the Zoo.
Contact Us
E-mail: acmsales@optonline.net
Toll Free: (877) 803-0325 Fax: (866) 806-2303
Atlantic Coast Marketing
PO Box 504
Nyack, NY 10960